Consumers Agree: It's a Good Time To Sell
In today's sellers' market, many homeowners are weighing their options and trying to decide if they should sell their house. If you're in that group, you may be balancing things like the ongoing health crisis, rising mortgage rates, and your own changing needs to determine your best time to make a move.
However, recent data shows that time may already be here. According to the latest Home Purchase Sentiment Index (HPSI) by Fannie Mae, 76% of consumers believe now is a good time to sell.
Looking back over the past few years, its clear consumers are incredibly optimistic today. The graph below shows the percent of survey respondents who say it's a good time to sell a house, and their positive outlook is on the rise. The big dip near the middle of the chart indicates how consumer sentiment about selling dropped at the beginning of the pandemic as uncertainty about the health crisis and its impact grew. The good news is, the trend today shows a continued, drastic improvement, and people are feeling more and more confident with time about selling a home.
In fact, survey respondents think it's an even better time to sell a house today than they did in the lead-up to the health crisis. The latest survey results indicate we're at one of the strongest peaks in seller sentiment since March of 2019, hitting highs when 77% of people thought it was a good time to sell only twice before in June and October of 2021.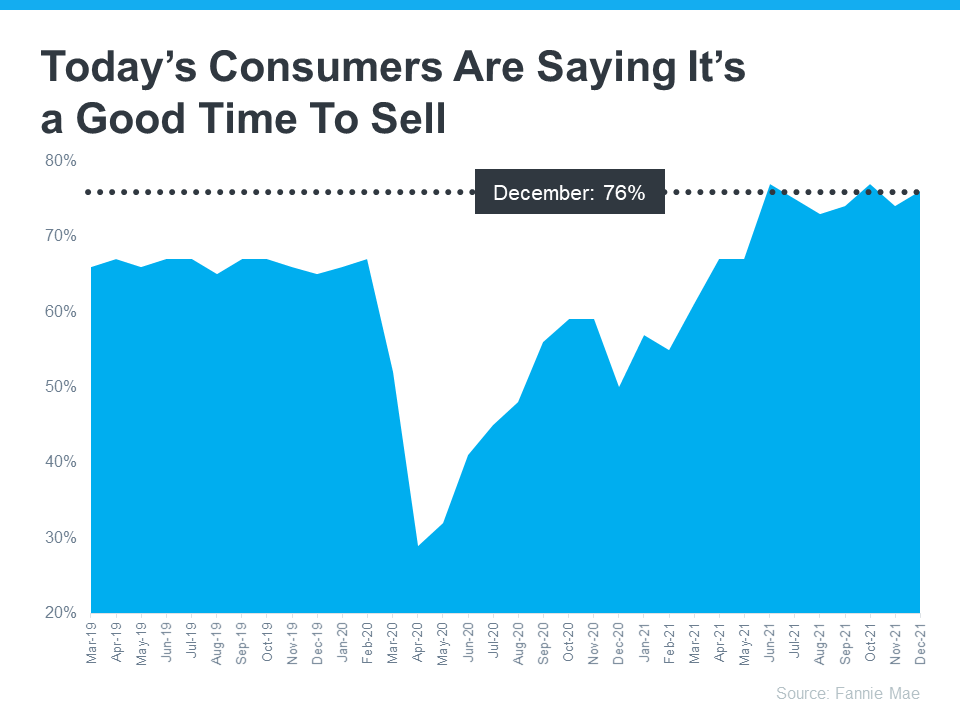 Why Are Consumers So Optimistic About Today's Housing Market?
From record-high equity gains to record-low housing supply and significant buyer demand, homeowners have more motivation than ever to sell. There are more buyers in today's market than there are homes for sale, and that's driving home prices up, making it a great time to sell your house.
According to the National Association of Realtors (NAR), the current supply of homes for sale today is at a 1.8-month supply, which is an all-time low. When the supply of homes for sale is low, sellers will likely see more offers, which is exactly what's happening right now. As NAR notes:
"The average home for sale is receiving 3.8 offers today, up from 3.3 offers just one year ago."
Bottom Line
With the inventory of houses for sale so low today pushing home prices in an upward direction, it's no wonder consumers think it's a good time to sell. If you're ready to take advantage of today's favorable sellers' market, let's connect today.
Marty Gale
Buy or Sell with Marty Gale
"Its The Experience"

Principal Broker and Owner of Utah Realty™
Licensed Since 1986
CERTIFIED LUXURY HOME MARKETING SPECIALIST (CLHM)
PSA  (Pricing Strategy Advisor)
General Contractor 2000 (in-active)
e-pro (advanced digital marketing) 2001
Certified Residential Specialist 2009
Certified Negotiation Expert 2014
Master Certified Negotiation Expert 2014
Certified Probate Specialist Since 2018
Senior Real Estate Specialist
Certified Divorce Specialist CDS
Dwight Christie
Positive: Professionalism, Responsiveness
Marty sat down with my and wife and me to explain his process of helping first time home buyers. He took the time with us as we are interested in helping our kids. Marty is very professional and knows the real estate market better than anyone that we have talked to in the past. We will definitely be recommending Marty to help our daughter and her husband to get into their first home.
Brad East
Positive: Professionalism, Responsiveness
Marty has represented us for years and is an exceptional agent. In addition to his many decades in residential real estate, he also is an experienced luxury, custom home builder. His knowledge of the quality(or lack thereof) of the craftmanship of a home is invaluable. He sees things that even the inspectors may miss. He is thorough, responsive through the entire process, and skilled at negotiation. We certainly recommend him without hesitation
Adia Thornton
Positive: Professionalism, Quality, Responsiveness, Value
House hunting was practically a full time job. We were out looking at houses almost every single day. The market is so hot we lost 6 offers. He kept our spirits up and never wavered on quality.
His expertise was sooo valuable. He was really looking out for us. If we walked a house and it was cute but would have hidden problems he spotted them and guided us away from it.
We're now in an adorable house that was exactly what we needed.
Todd Anderson
Marty and Laurie are veterans in Utah's real estate market. They understand property valuations in various market conditions. They are adept at finding solutions for the trickiest challenges of buying or selling a home. Marty and Laurie successfully sold three properties for our family. I highly recommend them for your real estate transaction.
Daniel Garner
Marty and his team are some of the most knowledgeable and caring people I know. I definitely would recommend his services to anyone!
Spencer Clark
Positive: Professionalism, Quality, Responsiveness, Value
Marty was great to work with. The expertise and experience he offers are unmatched. I highly recommend Utah Realty for all your real estate needs.
Faye Williamson
Positive: Professionalism, Quality, Responsiveness, Value
This is the second time using Marty Gale. He is very knowledgeable and has a keen sense of reading people, especially in negotiating. His advice has never failed. The second time using him had some unique hurdles, especially because it had been a rental property. His advice and willingness to help make the sale happen were above and beyond my expectations. I highly recommend him and Laurie for selling or buying. Thanks to the Gale team!
Lonnie Woodman
Positive: Professionalism, Quality, Responsiveness, Value
Marty is great to work with! He found the exact house I was looking for in a super tough market.
Kitroen Costner
Positive: Professionalism, Quality, Responsiveness, Value
I had a Great experience! Got my house sold super fast for a great price.
Wyatt Anderson
Positive:
 Professionalism,
 Quality,
 Responsiveness,
 Value
Marty is exceptionally professional to work with. He is very knowledgeable in the field of real estate and construction. I was very impressed how he made me feel through the whole transaction of the sale, even during the midst of Covid-19. I highly recommended Marty!
B Flow
Marty Gale is amazing to work with. He was able to work miracles for us in order to sell our condo. He goes above and beyond what a realtor is required to do because he becomes invested in his clients. He actually cares about who he is representing. His network of lenders and other people in the industry makes for a seamless process.

We also used him to buy our new home. We had an extremely short time frame and he was able to get us closed on our new home in record time before we went on vacation. He knew we would be worried about the security of our home while we were gone and he offered to keep a very close eye on it to put our minds at ease. He did all this after we had closed on our home and technically his "job" had ended. I can't recommend him enough! Thank you Marty!!!
Greg Anderson
Positive: Professionalism, Quality, Responsiveness, Value
Marty was great and had worked hard to sale . I would use Marty again to buy or sale. Marty is a 12 star realtor.
Coulter Baldes
We've been through war with this guy and he stood by us the entire time. He always had time for us, and was always going above and beyond behind the scenes for us. His suggestions were awesome and people he works with we're also fantastic. Can't speak enough of how much this guy helped us.
Trevan Thomas
I recently bought my first home with my fiancee and Marty was incredibly helpful. I had no idea how complicated the process of buying a home would be. We certainly could not have done it without Marty's help. He is experienced and used his connections with a variety of people to make the process as quick and easy as possible. I definitely recommend contacting him if you're in the market for a new home.
Cynthia Sayers
They are the most caring, educated, patient agents and go the extra mile to be sure you understand and are in the loop from begining to end. You can't go go wrong with Marty and Laurie Gale, they are a blessing.
Mariah Mills
Marty was great to work with. Recently my fiance and I were looking for a house, and Marty was recommended to us by my mother. She worked with Marty 30+ years ago when my parents bought their house. I had no idea all that went into buying a house, but thankfully we had Marty there to help walk us through it. He was great at using his connections to help us get our house. I would recommend Marty to anyone looking to buy a house.
Brandon Christensen
 I'm a loan officer who was working with Marty and Laurie to help a great family get into a home. No matter how many issues came up in the loan, they would stop whatever they were doing to make sure the issue got taken care of. They were absolutely instrumental in getting the loan closed and I truly do believe that most other realtors would have fallen short. Between their experience and dedication to the families they help, I don't think that you could find a better realtor to get you into a home. I highly recommend them to anybody who's looking to buy a home. They will get you both the best deal and experience possible.
Samantha Cook
Marty Gale is the best! He is a master negotiator! You can't go wrong with him. I highly recommend him and would recommend him to anyone I know.
Jenny Bowen
Marty Gale at Utah Real Estate was fantastic to work with! He helped us both with the sale of our home as well as the purchase of a new one. I loved that he got feedback forms on the showings so we could get an idea of what potential buyers thought of our home. He was eventually able to negotiate a very strong offer and even got us above the asking price. On our purchase, he showed us countless properties and provided insight because of his professional background. For the home we purchased, it was in a very hot area and he made sure we were first at the open house. He also HAND DELIVERED our carefully written offer so that we would stand out against other offers. I would highly recommend Marty to anyone looking to buy or sell!
Marc J.
Marty does an incredible job with buyers to find them the best home for their money. He then negotiates the Real Estate transaction to make sure their rights are protected throughout the buying process. I highly recommend Marty Gale and his team for your next Real Estate Purchase!
Gilbert Bruce
Both Marty and Lori were fantastic to work with. They went the extra mile during one of the toughest winters in the Midway area to produce a great sale of our residence. Never a complaint to travel to Midway for open houses and potential buyers. They're the best!
DeWayne Brundage
We loved working with Marty Gale! He gave us so many tips on how to stage our home to sell, we followed his advice and sold it quickly. He helped us find our new home and closed on both at the same time. It was a stressful time but he made the process so much easier. I would highly recommend Marty and Laurie Gale to anyone looking to sell or buy a home. They have years of experience and it really shows. Thank you Marty and Laurie for all your help and for helping us keep our sanity through this process!
Thomas Alley
Marty is the hardest working and most helpful real estate agent I have met. I have gone through 4 cycles of buying and selling homes in my life and Marty was simply the best.
Marty recently helped us sell a house and he guided us every step of the way, providing sound advice from his lifetime of experience. I highly recommend Marty.
Peter Smith
Positive:
 Professionalism,
 Quality,
 Responsiveness,
 Value
Marty walked me through the entire home buying process, answered all my questions, and advised on the best courses of action while allowing me autonomy. His breadth and depth of knowledge in the industry is unparalleled, rarely did he not know the answer to a concern I had. I could tell he wasn't just a salesman but a person invested in my family and I's well-being. HIGHLY recommend, will use again.
Lindsey Fabiano
Positive:
 Professionalism,
 Quality,
 Responsiveness,
 Value
Marty is amazing to work with. You can tell by his actions that he really works toward your personal needs and preferences and never toward his own. He is the absolute best!